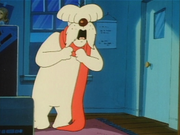 Bush the sheepdog, friend to Cleo at the local music shop. Whenever Riff Raff shows up, Bush tries to confront him, but no avail due to the hair over his eyes. Sometimes, he'll crash into the instruments in the store, trying to catch the clever cat, no thanks to a well-waxed floor!
Though his furry face tend to be cumbersome to his sight, Bush's nose is like that of a bloodhound's in sense of smell, especially when it comes to sirloin steak!
Ad blocker interference detected!
Wikia is a free-to-use site that makes money from advertising. We have a modified experience for viewers using ad blockers

Wikia is not accessible if you've made further modifications. Remove the custom ad blocker rule(s) and the page will load as expected.